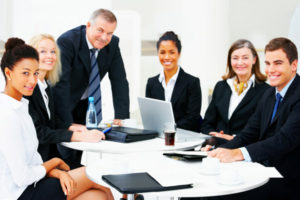 You must determine the exact scope of activity of your enterprise
Knowing this, we can tell if the given business activity is subject to an authorization or not
If it is subject to an authorization: how the authorization happens, which documents are needed and how much time does it take?
Choosing the company form
Preparation of the company establishment
Settle comfortably your company establishment online, from your home. Everything can be done online (e-mail, skype), it is not necessary to be present.
Company establishment at the notary – here you must be present in person once.
If you only have to declare the business activity (for example individual enterprise, GbR, PartGG, etc.), you should only make a declaration at the Trade Licensing Office. In this case, you do not have to be present in person.
Those who have a liberal profession are not subject to registration at the competent Trade Licensing Office
The registration at the Trade Licensing Office takes place after the registration at the commercial court (in case of capital companies)
The tax adviser opens a balance sheet and requests the VAT number.
Irrespectively of the arrival of the VAT number, you can start your activity.
With what kind of activity you wish to do in Germany and which company form have you thought of?